Claudia Cornejo Happel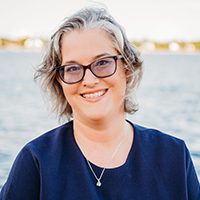 Claudia Cornejo Happel, PhD, EdS, is an Associate Director of the Center for Teaching and Learning Excellence at Embry-Riddle Aeronautical University, Daytona Beach. Her research interests include documenting and assessing teaching, Scholarship of Teaching and Learning (SoTL), as well as inclusive instructional practices. Her co-authored book, Critical Teaching Behaviors: Defining, Documenting, and Discussing Good Teaching (2023), builds on her expertise and interests to provide evidence-based guidance and practical tools for faculty to enhance teaching effectiveness and document instructional achievements.
Upcoming events featuring this person:
SoTL Keynote: Navigating Evidence-Based Teaching: From Research to Application (Webinar)
Friday, October 6, 2023 12 - 1:30 p.m.
SoTL Workshop: Who Tells Your Story? Reflection and Agency in Documenting Teaching Effectiveness
Friday, October 6, 2023 9 - 10:30 a.m.