Dynamic Lecturing, by Christine Harrington & Todd Zakrajsek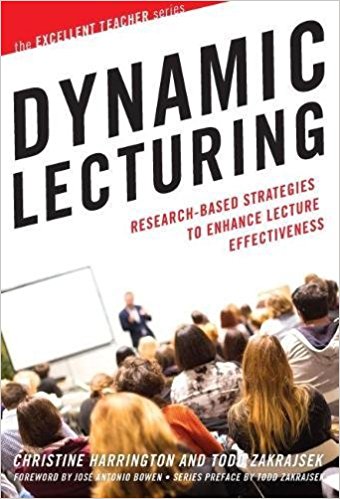 Facilitators:
Kate Ellis (Principle Instructional Technology Consultant, CITL)
Shannon Sipes (Director, Scholarship of Teaching and Learning program)
"Although increasing the use of active learning approaches has been shown to improve motivation and learning, research to date has not supported abandoning the lecture altogether" (p. 1). In their book Dynamic Lecturing (Stylus Publishing, 2017), Christine Harrington and Todd Zakrajsek address the need for research-based guidance on how to lecture effectively.  Some of the topics we will discuss in the book group will include the various types of lectures; strategies to increase the effectiveness of lectures; planning the lecture; and evaluating the lecture. 
One reviewer noted, "Dynamic Lecturing could not come at a better time. It brings balance back to the pendulum by reminding us that student-centered activities should not be used to displace and replace the lecture, but to complement and augment it." 
In anticipation of Zakrajsek's visit to Bloomington's campus, there will be a reading group that meets on three occasions to discuss Dynamic Lecturing. The reading group is open to all faculty and AIs of Indiana University but registration is limited to 15. Participants will receive a copy of the book and will meet as a group with Zakrajsek when he visits the Bloomington campus in November as part of the SoTL Speakers Series.
Meetings will be held in the Center for Innovative Teaching and Learning in the Wells Library from 9:05-10:30am on Fridays. Meeting dates include: Sept. 7, Oct. 12, and Nov. 9, 2018.
If you are interested in joining the book group and can commit to attending all three of these meetings please fill out the brief application form. If you have questions about the reading group, please contact Shannon Sipes at sotl@indiana.edu.