Bandwidth Recovery
– Cia Verschelden (2017)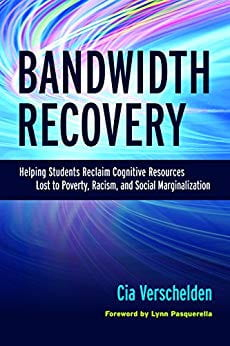 Facilitator:
Shannon Sipes (Director, Scholarship of Teaching and Learning program)
Verschelden provides readers with well synthesized foundational work on a broad range of facets related to inclusive teaching & learning. In this synthesis, she argues that leveling the learning field is not just a systemic challenge to be solved, but provides strategies individual instructors can incorporate into their courses to improve student learning as well. Great introduction for instructors who may be new to these concepts.
If you are interested in reading Bandwidth Recovery, consider joining us for a reading group this fall sponsored by the SoTL program within CITL. The reading group is open to all faculty and AIs of Indiana University, but registration is limited to 14. Participants will receive a copy of the book.
Meetings will be held in the Center for Innovative Teaching and Learning in the Wells Library from 9:00-10:30am on Fridays. Meeting dates include: Sept. 6, Oct. 4, and Nov. 8, 2019.  If you are interested in joining the book group and can commit to attending all three of these meetings, please fill out the brief application form no later than Friday, June 28, 2019. If you have questions about the reading group, please contact Shannon Sipes at sotl@indiana.edu.