Intentional Tech: Principles to Guide the Use of Educational Technology in College Teaching
– Derek Bruff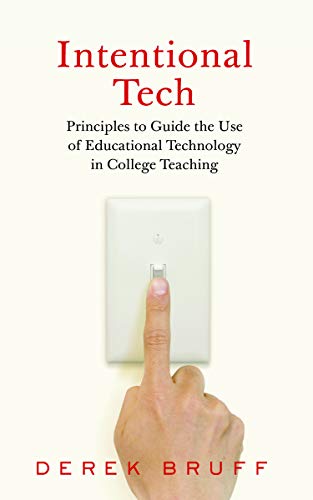 Facilitator:
Jennifer Turrentine (Instructional Technology Consultant, Center for Innovative Teaching and Learning)
With the multitude of educational technology options available, it's not always easy to decide which to use and when. In his newest book, Derek Bruff argues our teaching and learning goals should drive our choice of technology. He provides 7 research-based principles for matching technology to pedagogy and expands on each principle by providing examples of implementation from real faculty.
One reviewer noted, "Derek Bruff is an engaging—and often charming—guide throughout this concise book. The stories he tells keep things moving at a crisp pace and offer pedagogical inspiration. His principles provide a useful framework and establish a clear foundation for his practical advice."
In anticipation of Bruff's visit to Bloomington's campus there will be a reading group that meets on three occasions to discuss Intentional Tech. The reading group is open to all faculty and graduate students of Indiana University but registration is limited to 10. Participants will receive a copy of the book and will meet as a group with Bruff when he visits the Bloomington campus in April as one of our SOTL speakers.
Meetings will be held from 3:00-4:30pm on Mondays. Meeting dates include: Mar. 30, Apr. 6, and Apr 20, 2020. If you are interested in joining the book group and can commit to attending all three of these meetings, please fill out the brief application form no later than Friday, March 20, 2020. If you have questions about the reading group, please contact Shannon Sipes at sotl@indiana.edu.