Spotlight, May 2012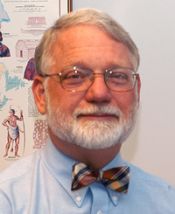 The optical microscope, still recognizable centuries after its invention, is among the instruments most readily associated with modern medicine. Dr. Mark Braun, Professor of Pathology in IUB's Medical Science Program, is changing that. IU medical students now turn on their computers to learn about disease states in human tissues, thanks to Dr. Braun's "virtual" microscopy.
Before the development of these digital resources, students had to spend time in the laboratory learning how to set up and use the microscopes. Only then could they even begin studying slide specimens.  But there were further limitations to studying. Each time they wanted to study, each student had to come to campus, go to the lab, get a microscope (if it wasn't locked away in a cabinet), set up the microscope, and then begin working on the slide tissue specimens. Dr. Braun wanted to streamline that process and expand access beyond time and place.
Now, with virtual microscopy, medical students have unlimited access to laboratory specimens – at home or on campus, day or night, alone or in groups. And virtual microscopy allows students to collaborate in study groups without losing their sense of "discovery", an important aspect of working with physical glass slides.
Dr. Braun and his colleagues have studied both medical students' and undergraduate anatomy students' use of virtual microscopy over the years. They have published several papers on the results. In general, students are enthusiastic about the experience. Virtual microscopy allows them to use their time and resources more efficiently, and students report there is much more opportunity for collaboration.
The virtual microscopy project evolved from a teaching challenge that presented itself many years ago. Students weren't gleaning and retaining the important information from the microscopic slides they were studying in the lab. Part of the problem was that students' access to slide specimens was limited to lab time. Frustrated by this, Dr. Braun developed a plan to make these resources available to students outside of the lab.
First Dr. Braun captured photomicrographs of the exact specimens students were studying and brought them from the lab into the lecture classroom. Later, using these digital images, he developed a custom printed manual of microscopic anatomy. The next step was to develop a website of clinical cases for students to work through. The lab atlas eventually was incorporated into that website. As more technologies have become available, the website evolved to include clinical cases which contain video clips, images, text, and some links to humorous "surprises" that keep students motivated and engaged.
With only a few exceptions, Dr. Braun has made these virtual resources open to anyone in the world. And according to site data, the world is looking and learning. Dr. Braun often hears from people outside Indiana University and the United States who have benefitted from the materials he has developed.
To see examples of virtual microscopy or learn from a case study, visit http://medsci.indiana.edu/c602web/602/start.htm
References
Schutte, A., Braun, M. 2009. Virtual Microscopy: Experiences of a Large Undergraduate Anatomy Course. Human Anatomy and Physiology (HAPS) Educator, Fall 2009: 39-42.
Hussman, P., O'Loughlin, V., Braun, M. 2009. Quantitative and qualitative changes in teaching histology by means of virtual microscopy in an introductory course in human anatomy. Anatomical Sciences Education 2: 218-226.
Braun, M.W., and Kearns, K.D. 2008. "Improved Learning Efficiency and Increased Student Collaboration Through Use of Virtual Microscopy in the Teaching of Human Pathology," Anatomical Sciences Education. 1:240-246.