Advocates for Community Engagement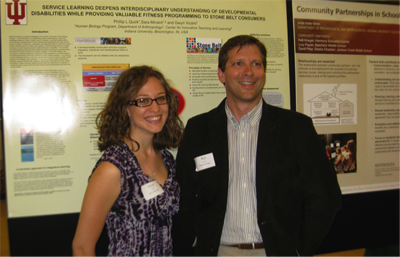 The ACE Program provides Advocates for Community Engagement (ACEs) who serve as liaisons between service-learning students, local agencies and organizations, and faculty. Each ACE serves with a specific agency coordinating service-learning students, communicating with faculty, and engaging in the daily life of the agency. ACEs are an integral component of service-learning at IU, providing a link between faculty, students, and nonprofits. ACEs also help students reflect on the connections between their coursework, service and larger social issues. The ACE Program includes training for ACEs designed to facilitate the development of their professional, advocacy, communication, interpersonal, and leadership skills throughout their career as ACEs.
Undergraduate students enter the ACE program as freshmen who are recipients of Cox Engagement Scholarships. The Cox Engagement Scholars Program is supported by a gift from the estate of Jesse and Beulah Cox. The support of the ACE program through the Cox Engagement Scholarships continues the Cox legacy of hard-work, education, and philanthropy. Read more about Cox Engagement Scholarships.
What Is an ACE?
Community Organizations: Apply for an ACE
Community Application (Interactive Application)